Angel has been working at the transportation department of Lake Wales for four years and the last two years he has been in charge of training and assisting drivers in any way possible. He explains how drivers have the constant pressure of delivering a safe timely trip.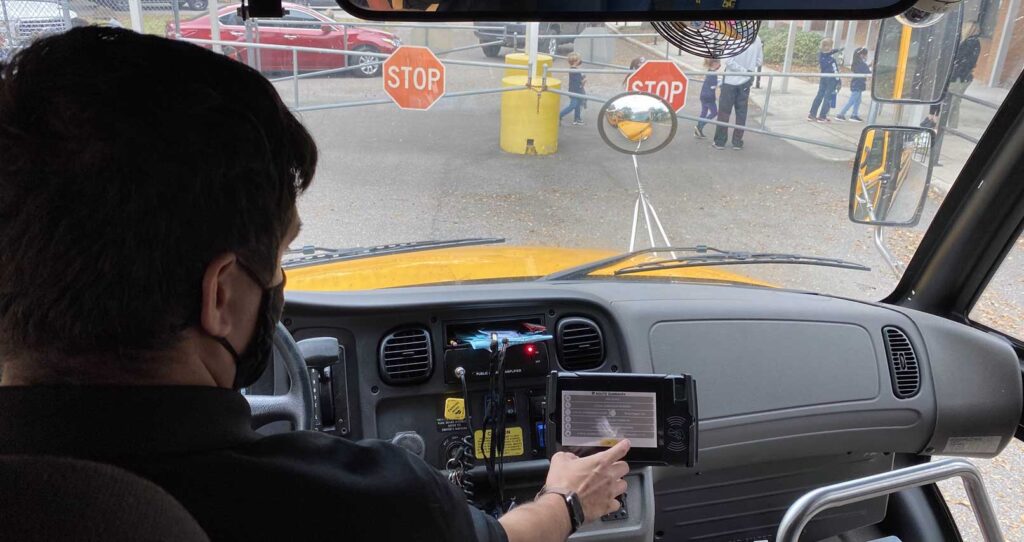 Angel Velez, School Bus Driver from Lake Wales Charter School, looking at his roster in the ReaXium Device.
"Our main challenges are dealing with the traffic and the time we have when picking up students… we have a short time to do that!", he said.
In addition to having the time measured for each stop, drivers have always had difficulty knowing if a child belongs on their bus or if they are getting off at the right stop. This uncertainty may cause delays in the stop times.
"Before having the ReaXium Device, a lot of students would come inside the bus and we could not know if they belonged to the bus or not… But now, with your solution it is easier for us to see who belongs to each bus, and helps us organize everything!" he explained. Angel then noted how technology can bring safety and accountability during his routes.
"It makes my job easier because the ReaXium Device has everything I need to know. We can know the number of students, the right student, the right stop…" he highlights. Angel explained to us how critical it is to know the number of students inside the bus given the numerous cases where a student falls asleep in the back seat. Now he does not worry about that anymore.
With ReaXium School Bus, drivers have buses outfitted with a device to provide route assistance and to help them identify and authenticate each student scheduled for pick up or drop off at each stop. This creates records of student scans for an accurate ridership count and notifies both driver and school administrators when a student attempts to board the wrong bus or disembark at an unassigned location.
"I think our service has improved a lot with your system… not only the bus drivers but school administrators and parents also. Now, thanks to the seating charts, administrators can mitigate the challenges posed by COVID-19 by knowing where each kid is seated" he stated. This is only possible when districts collect the right data. During the pandemic, accurate records of ridership allow Lake Wales to quickly conduct contact tracing to determine who a potentially-ill student/driver was transported with, as well as how long and how far apart they were on the bus together.
"You have everything the transportation directors and the drivers need to make the transportation department better…" he concluded.
About ReaXium School Bus
ReaXium School Bus is a unique and comprehensive solution that provides the schools' transportation administrators and campus personnel a full picture of daily school bus operations through a real-time dashboard portal. For this to work, the solution needs the implementation of a mobile device in each school bus that allows the driver to identify and authenticate each student scheduled for pick up or drop off at each stop of the assigned route. Each student scans their badges on the mobile device which allows the device to collect the date and time data for an accurate contact tracing report.
ReaXium wants to provide all school bus transportation operations with the optimal technological capabilities so students and drivers can be safe while being transported to and from school. Let's work together and keep students safe throughout the school day.
Contact Us to set up a meeting with one of our team members to discuss how you can get the most out of our solution and your budget!