"Being an entrepreneur is about finding your passion and serve others"
Last Week, Mr. Hardge hosted his Life Is What You Make It Panel Discussion at the Boyd H. Anderson High School aimed to make students focus on becoming 110% responsible for their lives by equipping them with the skills, strategies, and information necessary to create the life they desire. By inviting several entrepreneurs, the talk provided the students with engaging Life and Business Principles that are proven to educate, enlighten and help achieve the best version of each one of them.
Moderated by Mr. Hardge himself, this panel included:
The panelists talked about their experiences as successful entrepreneurs and answered questions from the moderator and the audience about personal development, their early careers, the business challenges they have faced, the mindset you need to have for entrepreneurship, and how to stay on top of all the business trends that are constantly emerging.
Passion and love for what you do
The discussion began with a presentation by Garrie Harris, who has been in the contract labor and temporary staffing industry since the early 1990s. But it wasn't always that way. She discussed how much of her life was spent working in an industry that didn't fulfill her. She started her career in the banking sector and was a very successful stockbroker! However, although she was doing very well financially, she was "not happy with what she was doing" on a day-to-day basis. Because of this, he decided to look for other opportunities and when he moved to a large national staffing company, she realized that the staffing industry was her passion and she has not stopped working in it since. She loves her profession so much that she decided to start her own staffing company. The lesson Garrie left us with was one of finding what we love, because that way you find the inner motivation to give the best of yourself.
A good first impression: the key to successful networking
The next panelist to be introduced to the stage was Jerome, who has dedicated much of his life to supporting the black community. His company, ICABA® (International Career and Business Alliance), is a global business network devoted to building wealth for accomplished professionals and entrepreneurs of color through valuable connections, information, and opportunities. Jerome stressed the importance of always making a good first impression and that the most important thing about the company you create, is you, the person, not the company itself. As a good businessman dedicated to networking, he wanted to teach the students that the way you present yourself is how people will remember you. The same with the brand you want to create. The first impression people have with your brand will determine to a large extent how they remember it.
Taking advantage of the opportunities that come your way
Next up on the stage was Edgar, our founder. When discussing where business ideas come from, Edgar commented on how ReaXium was born, which was almost by inertia after a trip he made to some technology partners he had in China. While there, he realized that his partners' biometric devices were the key to creating a solution for the student authentication pains of today's school districts. Edgar explained that the smartest way to create technological solutions was to use and combine existing technologies into a comprehensive solution that addresses a particular need. In addition, he emphasized that although new technologies and products are always coming out, it will always be the people on top of them who will come up with the ideas of the future.
The ups and downs of entrepreneurship
Last but not least, Jay joined the stage. He explains the importance of gaining work experience in the corporate world before starting your own company to gain the necessary skills. He worked as a marketing director for more than 20 years before founding WolfCreek Consulting, a company specialize in recruiting within the areas of Engineering, IT, Healthcare, Finance and Accounting. His position in marketing taught him how important it is to develop a good marketing and business plan, and follow it to the letter. Every entrepreneur will have ups and downs, and such planning is what allows us to find stability and sustainability through the different stages of the business cycle. He also emphasized the importance of each of us doing our "homework" such as researching, learning, and staying curious; because doing our homework will keep us on top.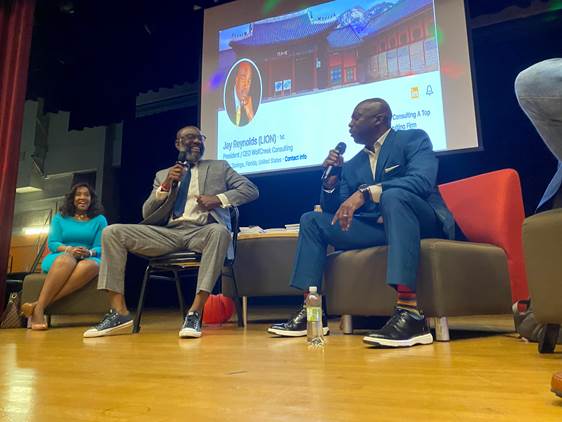 The panelists were equally excited about the experience, as summarized by Edgar Zorrilla – "I am only too glad to help Mr. Hardge in his mission to help young students reach their true potential and discover their true purpose". The ReaXium team is grateful to Mr. Hardge for the invitation and to the rest of the panelists for sharing their time and expertise. We hope it will be the first of many!